When it comes to Terry O'Neill, October is a big month for his archive. Two of the most iconic photo shoots O'Neill captured were taken in October in the 70s.
To celebrate their anniversaries, Iconic Images are happy to offer a special bundle deal of
'Two Days That Rocked The World' and 'When Ziggy Played The Marquee' both signed by Terry O'Neill.
Offer ends 31s October 2018.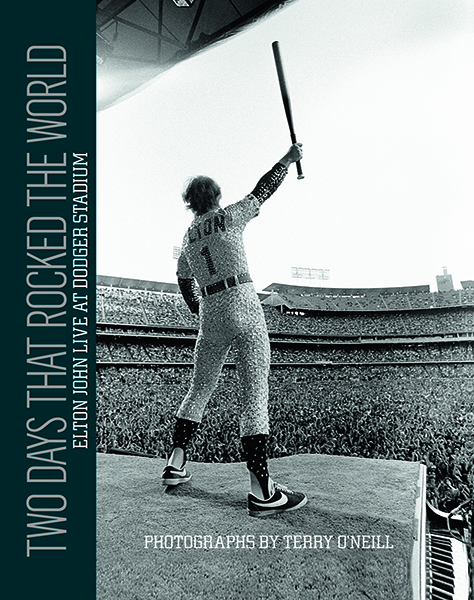 Two Days That Rocked The World, Signed by Terry O'Neill
Photographer Terry O'Neill, by then already known as a world class photographer whose images of The Beatles, The Rolling Stones and David Bowie were considered iconic, was on-hand to capture every moment. O'Neill was given unprecedented access to document this incredible occasion and now, for the first time in book form, these photos – many of which have never been seen before – celebrate two milestone days in music history.
Days before the event, Elton John left London in trademark style. Friends, family and the next-door neighbours boarded what would become a flying back-stage, complete with a piano, from London to LAX. The build-up to the event was feverish and the world's press was watching. Through his lens, Terry O'Neill records the exuberance, anxiety and pressure as the star readies himself for the show of a lifetime.
Through private moments as well as public ones, including Elton backstage with super-fans as diverse as Cary Grant and Billie Jean King, O'Neill creates a visual record that will forever help define this moment of time when music's most outlandish performer overcame his personal and professional demons to create two days of performance legend all leading-up to the ultimate moment: Elton John on-stage in a Bob Mackie designed Dodger's uniform – complete with 'Elton #1' emblazoned on the back, raising a baseball bat high in the air. It was a home run.
O'Neill captures all of this and more in Two Days that Rocked the World: Elton John Live at Dodger Stadium, Photographs by Terry O'Neill. Including an introduction by Billie Jean King, this incredible book will feature more than 150 photographs along with O'Neill's own memories of the event itself. This book celebrates the story of a concert that was instantly dubbed an iconic moment in music history and John's finest moment.
Terry O'Neill, celebrated photographer, was given unprecedented access to document the event; a command performance for the American television program 'Midnight Special' and a show Bowie would name 'The 1980 Floor Show.' O'Neill captured Bowie and his crew backstage as they went through costume changes, and on-stage Bowie as he transformed into the character he'd soon put to rest. As O'Neill dodged television cameras and lights, he captured this significant moment in music history.
O'Neill remembers "Bowie became a character when he performed. As much as a person takes a role in a play for the West End or on Broadway, learning the lines, putting on the costumes – this was, I think, the way he treated his stage. That night at the Marquee, I witnessed a modern-day Hamlet – and it was Ziggy Stardust".
Award-winning music writer Daniel Rachel interviews key contributors from that day, including O'Neill, Ava Cherry, Amanda Lear, Suzi Ronson and Geoff MacCormack – along with new insights and memories from fans who were in the audience who played witness to this incredible moment in music history.