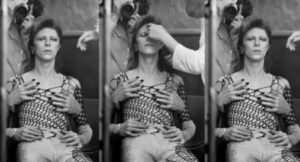 'I was lucky enough to receive the call to photograph David Bowie.
And I was smart enough to know to say yes.' – Terry O'Neill
Iconic Images, along with media and publishing specialists Red Engine, announce the publication of BOWIE BY O'NEILL, a unique 500-copy limited edition luxury publication of Terry O'Neill's photography archive of David Bowie.
An extraordinary publishing event, BOWIE BY O'NEILL presents legendary photographer Terry O'Neill's iconic imagery of David Bowie in an exciting new light. Including never-before and rarely seen photos from a nearly thirty year partnership. In this deluxe book, photographer Terry O'Neill collaborated with Red Engine's Art Director Des Curran to painstakingly cull the archive of O'Neill's Bowie photography and curated a book that breaks the boundary of traditional publishing. By incorporating multiple inserts, design crops and colourisation, Bowie by O'Neill becomes more than just a book of photography – but a book that stands alone as a piece of art.
Terry O'Neill says 'I'm very proud of this book. I look at these photos today and remember the times I had with David. He was an incredible genius and is greatly missed. There won't be another one like him.'
The first edition of 500 copies comes with a signed certificate of authenticity and two limited edition fine art prints.
For more information or to order, contact
carrie@iconicimages.net / +44(0)207 535 3912