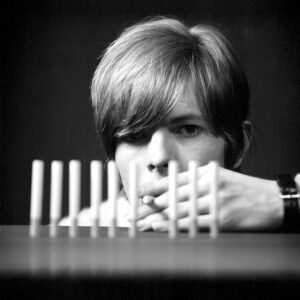 Gerald Fearnley (born 1932) was a professional photographer in Surrey, England and the elder brother of Derek "Dek" Fearnley, the bass player in David Bowie's 1966-67 backing group The Buzz. During that time, Bowie became friends with the Fearnley family and the band often rehearsed at their home and in Gerald's studio.
Gerald Fearnley was asked to shoot the images for Bowie's debut album and this photo session took place in Fearnley's studio in a basement beneath a church in Bryanston Street near Marble Arch in London where David and Dek rehearsed. These charming images were only released for the first time as fine art prints in 2016.
Gerald Fearnley Iconic News
This week marked 2 years since the passing of music pioneer, David Bowie. To celebrate the life and works of David Bowie, Iconic Images are proud to showcase photography from the archive.
Read the full article