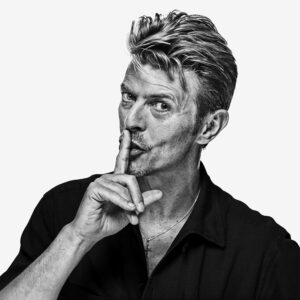 Gavin Evans was born in 1964 in Sunderland, England. Over the course of a career spanning decades, Evans has photographed countless celebrities, including Ai Wei Wei, Juliette Binoche, Daniel Craig, Bjork and Nick Cave. In 1995, Evans worked with David Bowie in a photo shoot that would result in some portraits now widely considered some of the most famous images of the artist ever produced. These iconic photographs have appeared world-wide, including the back cover of the V&A "Bowie Is" Catalogue, the David Bowie Art Auction Catalogue for Sotheby's in 2016, The Grammy's hero image and on the cover of Rolling Stone magazine. He has exhibited his photographs in renowned museums including The Harpa, MoMA and the Victoria and Albert Museum. In 2015, Evans created the campaign for the Edinburgh International Festival. He has worked for Vogue, The New York Times, and The Guardian and countless other magazines and newspapers and now lives and works in Berlin.
Gavin Evans Iconic News
Iconic Images presents limited edition, fine-art prints available from the Gavin Evans archive, including some of the most iconic photographs ever taken of David Bowie.
Read the full article