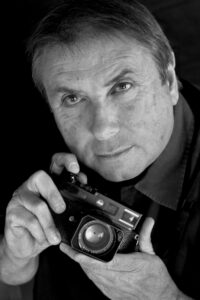 Iconic Images is saddened to hear of the passing of Tom Stoddart.  We are honoured to have worked with Tom Stoddart on his recent exhibition at Photo London and his book, published in 2020. Robin Morgan, founder of Iconic Images and former Editor-in-Chief of The Sunday Times Magazine, noted "He was, as his amazing images evidence, dedicated, compassionate, and tenacious. We were so proud to give him the book he wanted as testimony to his life: Extraordinary Women: Images of Courage, Endurance and Defiance. The title summed up our Tom."
Below, the introduction to "Extraordinary Women: Images of Courage, Endurance and Defiance, published by ACC Art Books and Iconic Images in October 2020.
We recognise great photojournalists by their signature images: Robert Capa's Spanish Civil War The Falling Soldier, Don McCullin's frozen-faced US Marine traumatised in the aftermath of a firefight with the Vietcong.
We recognise Tom Stoddart's images through his subjects' humanity. It is their story he wants told, it is their lives he wants chronicled, recognised, and rewarded with our appreciation, our awareness, that our voices may be raised in their defence.
And it is in this book where Tom's story comes into sharp and unique focus reaffirming the inconvenient truth – during the tectonic convulsions that rip landscapes to shreds, be they earthquake, famine or war, it is always the women and their children who bear the burden of calamity, it is their faces that tell the story and remind us we might be the next casualties of disorder.
But this is not a book about death, horror, terror. Where others see only violence, and despair, Tom sees courage, defiance and endurance; where others see only frailty and tears, Tom finds strength and dignity; where others record women as victims, Tom captures their fortitude.
For this book is the story of extraordinary women.
It was just such a story that enraged and ignited me when I first met Tom. I was a senior editor at the London Sunday Times in 1987. Years of Middle East turmoil had taken their toll on the news cycle; places like Beirut and Belfast generally attracted resigned sighs and even cynical yawns at editorial conferences in London or New York.
Two young freelance journalists were ushered into my office by a sympathetic reporter; the foreign desk had just rejected their story as stale. A car ferry had capsized killing 193 on board, Margaret Thatcher was visiting Moscow as the Soviet Union faced collapse – who cared about a refugee camp in Beirut where Muslim was killing Muslim?
The two journalists had braved weeks of murderous gunfire and near starvation in the southern suburbs of civil war-torn Beirut where the Palestinian refugee camp, Bourj el-Bharajneh was under siege from Amal Shi-ite militia; tanks shelled and snipers murdered the inhabitants around the clock.
The reporter was a young American freelance journalist called Marie Colvin; her friend and colleague, the British photographer Tom Stoddart.
And there, in their epic story – deemed too expensive for publication – was, in words and pictures – one element that exploded off the page: a series of photographs of women running across open ground, under fire, with empty buckets to collect water from an exposed well. One was felled almost instantly by a sniper. They knew they were easy targets for the murderers laying siege but they needed water, for their children, their casualties, themselves. After filling their buckets, two ran back, water slopping, and halted in full sight of the snipers to scoop up their fallen friend and drag her back, with their water pails, to the safety of a building already reduced to rubble.
It was war on women. And that would be the headline. As Marie reworked her words, Tom and I laid out a powerful full[1]page feature showing the sequence of events under the headline, thinking it would take a powerful visual display to elevate Beirut in the news agenda. When I took the dummy page layout into the editor's office, Andrew Neil took one look and declared, "I want this on the front page".
That Sunday the world woke up to Bourj el-Bharajneh's plight. The Arab nations immediately brought pressure to bear on the Syrian-backed Amal militia and the siege was lifted – the power of Tom's photographs and Marie's words proved that the press still had the power to marshal public opinion and silence the guns.
It was a theme we reprised five years later. Again, Tom was under fire during one of his many forays into Sarajevo. Again, a town besieged by tanks, artillery and snipers, and once again it was a war on women.
Tom walked into my office with a startling portfolio from which one image jumped out; her name was Meliha, a striking, defiant, beautiful woman, dressed to allure in a city without medicine, or make-up. A city where women were reduced to using berry juices for blusher or lipstick. Meliha wore her beauty with pride and defiance as she strode down what was called 'Sniper Alley', in heels, stockings and pearls, knowing a bullet might end her life at any moment.
Another extraordinary woman, another cover story that changed and shaped our world. Another image among many in a career that seeks to show the endurance, fortitude and dignity of women in the front line.
You won't find Tom Stoddart gracing fashionable parties in London or New York, receiving the praise of his contemporaries. You won't find Tom on stage at award ceremonies accepting the applause of his peers. You'll find him where most of us fear to tread, and where his subjects have no choice – on the parapets of crisis, catastrophe and conflict.
You won't hear Tom talking about himself on television or radio either. He simply doesn't have the time or the inclination to occupy the spotlight that so many of his peers crave but that is so deservedly his. He would cringe to read such praise, and abruptly change the subject to his subjects.
Even now, when many of his contemporaries are contemplating their third age of travel, or gardening, or enjoying their grandchildren, after successful careers, Tom is still packing his camera bag – after 50 years on the front line, he is still climbing those parapets that continue to be built by violence both man-made and natural.
And he continues to expand our consciousness.
Robin Morgan Editor in chief, Sunday Times Magazine, 1991-2009