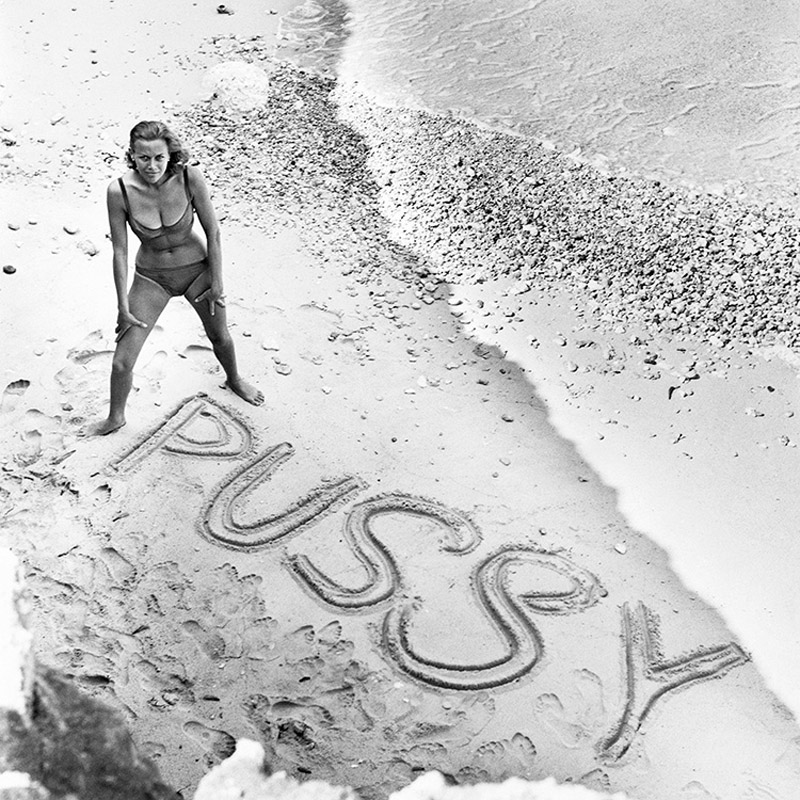 "I started shooting James Bond movies in 1963, when the paper I was working for sent me down to the set of From Russia with Love, the follow-up to the 1962 smash, Dr. No. It was clear that the Bond film franchise would come to epitomise British filmmaking in the '60s and go on to launch several careers, notably Sean Connery, who was in every sense of the word, cool. And yes, to be sure these are James Bond films—but the roles of the leading actresses would become sought-after. These women, often strong, independent characters, would be remembered for their tongue-in-cheek names. Perhaps the most notable and notorious of them all being Pussy Galore." In Goldfinger, Honor Blackman was cast as Bond's female nemesis. Known for her starring role in British television's The Avengers, and her skill at judo, Blackman became the Bond girl that broke all the rules.
Concerned over censorship, the producers considered changing her character's name to Kitty Galore. But art triumphed over censors and the filmmakers stuck to their guns. Blackman, clearly amused with the controversy, even went out of her way to mention her character's full name in press interviews. However, promotional materials at the time simply refer to her character as 'Miss Galore'. "It was just too good an opportunity. I'm not sure how we came up with the idea. I was with Honor, a stunningly terrific and smart woman, doing some press shots on the beach. I took photos of her on the rocks, in a fur coat, on the balcony and also did a few rolls in colour. And as I was standing there, looking down at her with all that blank sand, the idea just hit. "So we wrote her character's first name on the sand— Pussy."
This iconic photograph is available as a limited edition, fine art print signed by both Terry O'Neill and Honor Blackman in 20×24 inches and single signature by Terry O'Neill in 16×20 and 20×24 inches. Contact the sales@iconicimages.net team for further information.