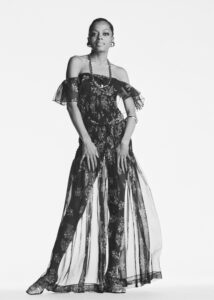 "What a voice, what an actress, what a performer! Diana Ross was all this and more. I was able to work with her a few times during my career, on stage and off."
Diana Ross rose to fame during her years in The Supremes during the 1960s, becoming not only one of the most successful Motown acts but also one of the world's all-time bestselling girl groups. After several chart-topping songs, she decided to leave the group and embark on a solo career. Her first solo album, released in 1970, included the number one song 'Ain't No Mountain High Enough'.
Simultaneously, Ross launched herself as an actress with the starring role in 1972's Lady Sings the Blues , for which she received an Academy Award nomination for Best Actress.
"This photo session was probably publicity for Mahogany , her 1975 film. I can't think of any other entertainer who ruled the 1970s as much as Diana Ross. She recorded hit after hit record, she toured the world, Broadway, Vegas, did television specials and on top of all that, starred in several highly successful and critically acclaimed films.
"She was very easy to work with. She didn't really want me to give her direction, though, but that was alright with me because she was an absolute pro in front of the camera. She knew what angles would work for her and she knew how to strike a variety of poses so each frame would have something unique to them. "Looking at this contact sheet, you can see that. Each frame is unique. That was great for me and probably even better for the photo editor who ultimately would have the difficult task of choosing which terrific Diana Ross photo to run with."
Read more about the stories behind Terry O'Neill's most iconic photographs in 'Every Picture Tells a Story' available from the Iconic Store.