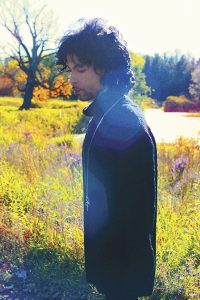 Steve Parked worked with Prince at Paisley Park for nearly 13 years in a variety of roles, from painting sets to designing album covers and tour merchandise.  Parke also took on the role as photographer at Paisely Park and captured hundreds of images of Prince both at work, at home and at play.  Here Steve writes about a day-outing with the boss.
One impromptu photoshoot took us to Chanhassen Arboretum, one of the most beautiful parks in Minnesota.  We hopped in Prince's Prowler, squealed onto the highway, and a few minutes later turned into this park I hadn't even realized was there.  It was early on a weekday in the fall, so we had the place to ourselves, devoid of summer tourists and school bus field trips.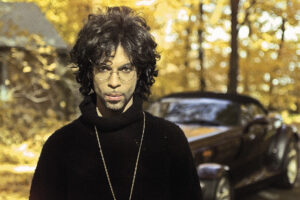 Prince drove down the road, turned right, and parked his car in the middle of the road.  We got out.  It was quite beautiful.  Trees were heavy with their gold and copper leaves, Prince contrasting them in all black with heavy dark-rimmed glasses. Initially he sat on the hood of his car.  We snapped a few shots and then heard a crunching sound to the right.  Prince startled and had the look of someone who'd been found out (I managed to catch his reaction in one shot, which he liked and found funny), but the sound was from an older gentleman who was busy leaning down to identify a particular plant.  He walked by and gave the purple Prowler and Prince no notice.
Relief settled in and we walked to a set of brick stairs where Prince sat (click).  He stood and messed with the turtleneck of his sweater (click), moved towards a bench and squinted towards the sun (click).  All resulting in a series of beautiful images. I'd been photographing Prince for a while at this point and it occurred to me that this was the most relaxed I'd felt on a shoot with him, probably because he was the most relaxed I'd seen him. I've always enjoyed the woods and apparently he did as well. We walked through tall grasses, he sat down inside a stone circle with his face towards the sun and closed his eyes (click). We walked and walked (click), then returned to his car and drove further down the path to flower-filled hedges (click).  I took a picture of his reflection in the shiny hood of his car (click).  I recall very few words exchanged that day, and honestly was a bit sad when we were finished because it'd been such an 'in the moment' immersive experience – for once, no rushing and no deadlines.
See the whole archive : https://iconicimages.net/photographers/steve-parke/
Iconic Images have limited edition bookplates designed, numbered and signed by Steve Parke, more info : https://iconicimages.net/product/limited-signed-edition-picturing-prince-intimate-portrait/
We also offer Limited Edition Fine Art Prints from the Prince archive, for more information contact jackie@iconicimages.net or visit our Fine Art Prints page.