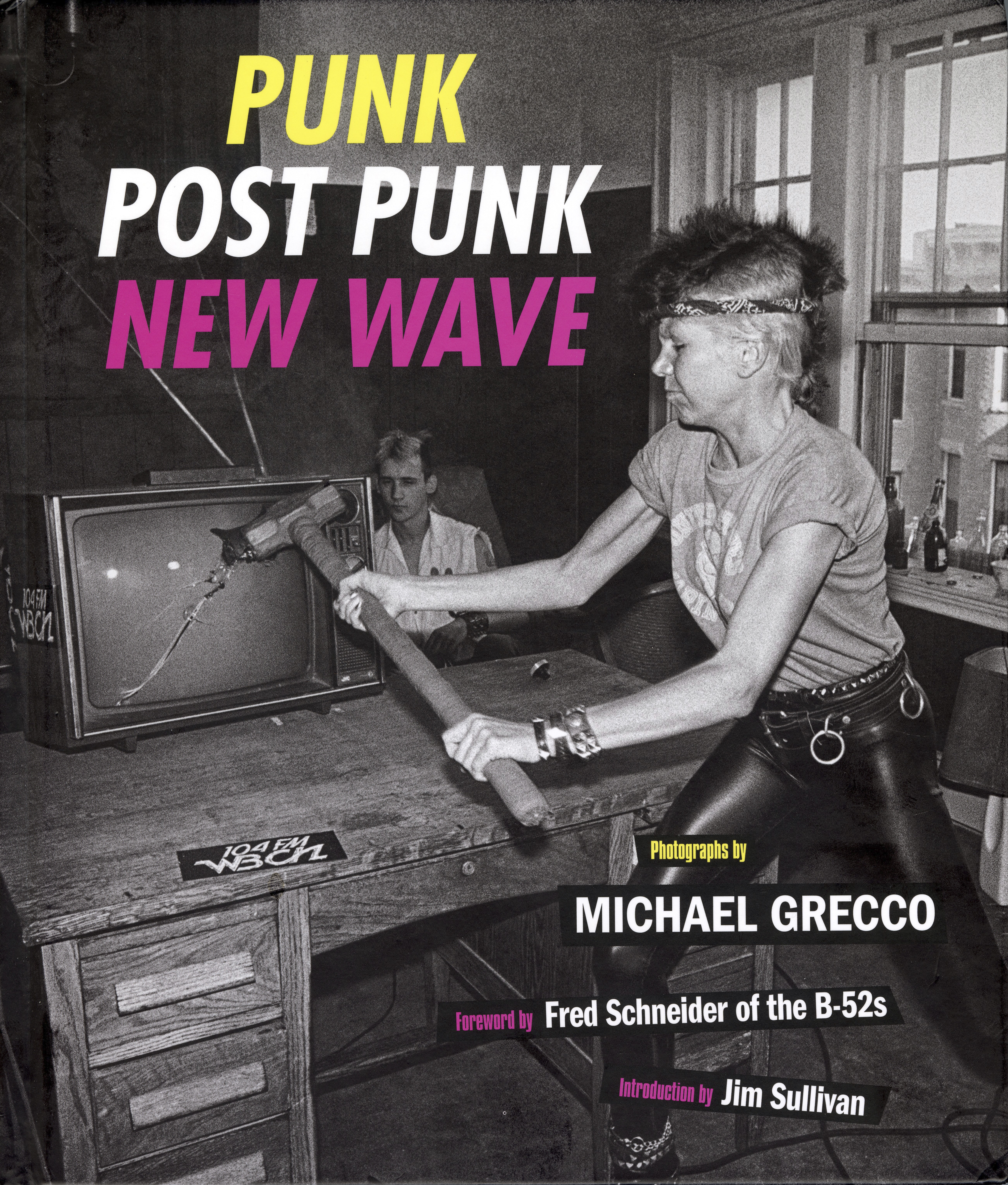 Iconic Images and photographer Michael Grecco are proud to collaborate on a series of unique, strictly limited edition Collector's Editions of the new book: Punk, Post Punk, New Wave: Onstage, In Your Face, 1978-1991
From the late '70s to the early '90s, photographer/filmmaker Michael Grecco was documenting the nightclub and concert scenes in New York and Boston when punk exploded in the U.S. , and later morphed into post-punk and new wave movements. As an Associate Press photographer – and a self-described "club kid" – he had a unique opportunity to embed himself into this revolutionary scene as both a chronicler and a participant. Down and dirty in the thick of things, onstage and backstage, Grecco captured a riotously outspoken time in pop culture history – with all its raw energy, sweat, and outrageous antics – for posterity. The book's 162 black & white and color images include Grecco's shots of artists including Sex Pistols, Blondie, Talking Heads, Human Sexual Response, Joan Jett, The Clash, Poison Ivy, and the Ramones, among many others. In addition to concert photography, Grecco shot album covers and promotional pieces that round out his impressively extensive photo collection, which also includes his personal anecdotes remembering tales from back in the day.
A limited edition range, with a total of 100, of 7 editions below.
Each book includes a signed and numbered certificate of authenticity.
Punk, Post Punk, New Wave : Special Edition 2-10/100 - £750.00
Housed in a clam-shell box, with a bookplate and certificate of authenticity both signed by Michael Grecco.
Includes one original Raymond Pettibon offset lithograph (11 x 8.5 inches) – each edition includes a different print!
Choice of 1 x 8×10 signed print (Wendy O. Williams, Dead Kennedys, The Clash or Buzzcocks)
Punk, Post Punk, New Wave : Special Edition 100/100 - £5,000.00
Housed in a clam-shell box, with a bookplate and certificate of authenticity both signed by Michael Grecco.
Includes original Raymond Pettibon offset lithograph "Black Flag" measuring 11×8.5 inches
16×24 print of your choice from the book, produced as an A/P edition.
Includes all four 8×10 signed prints (Wendy O. Williams, Dead Kennedys, The Clash or Buzzcocks)
Punk, Post Punk, New Wave : Special Edition 1/100 - £7,500.00
Housed in a clam-shell box, with a bookplate and certificate of authenticity both signed by Michael Grecco.
Includes original Raymond Pettibon offset lithograph "Revolutionary Sex, 1982" measuring 17×11 inches
16×24 print of your choice from the book, produced as an A/P edition.
Includes all four 8×10 signed prints (Wendy O. Williams, Dead Kennedys, The Clash or Buzzcocks